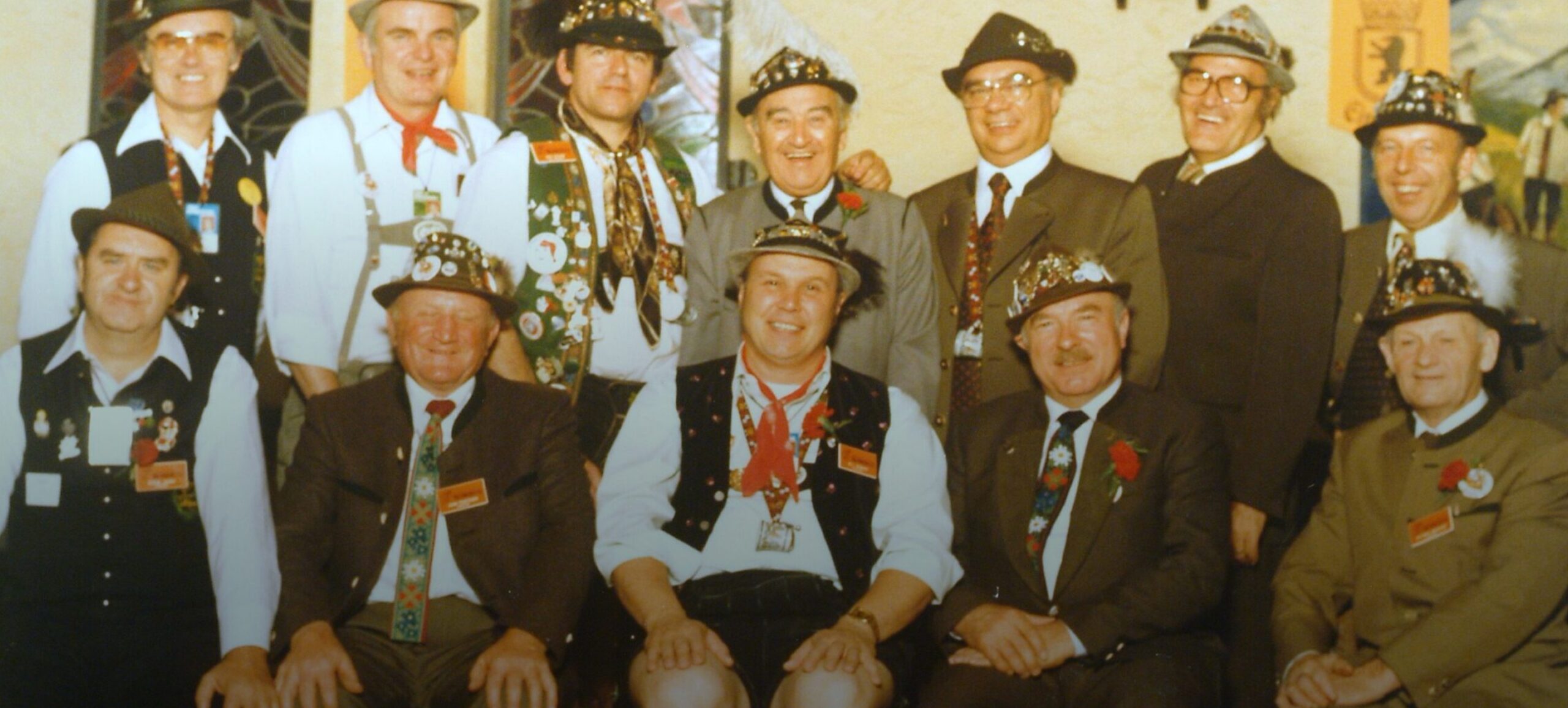 Our Story
Friends, family, and having a GREAT time! That's what the Ultimate Oktoberfest Experience is all about. Around Oktoberfest it's called "Gemütlichkeit" and it has no direct English translation, but essentially means "coziness".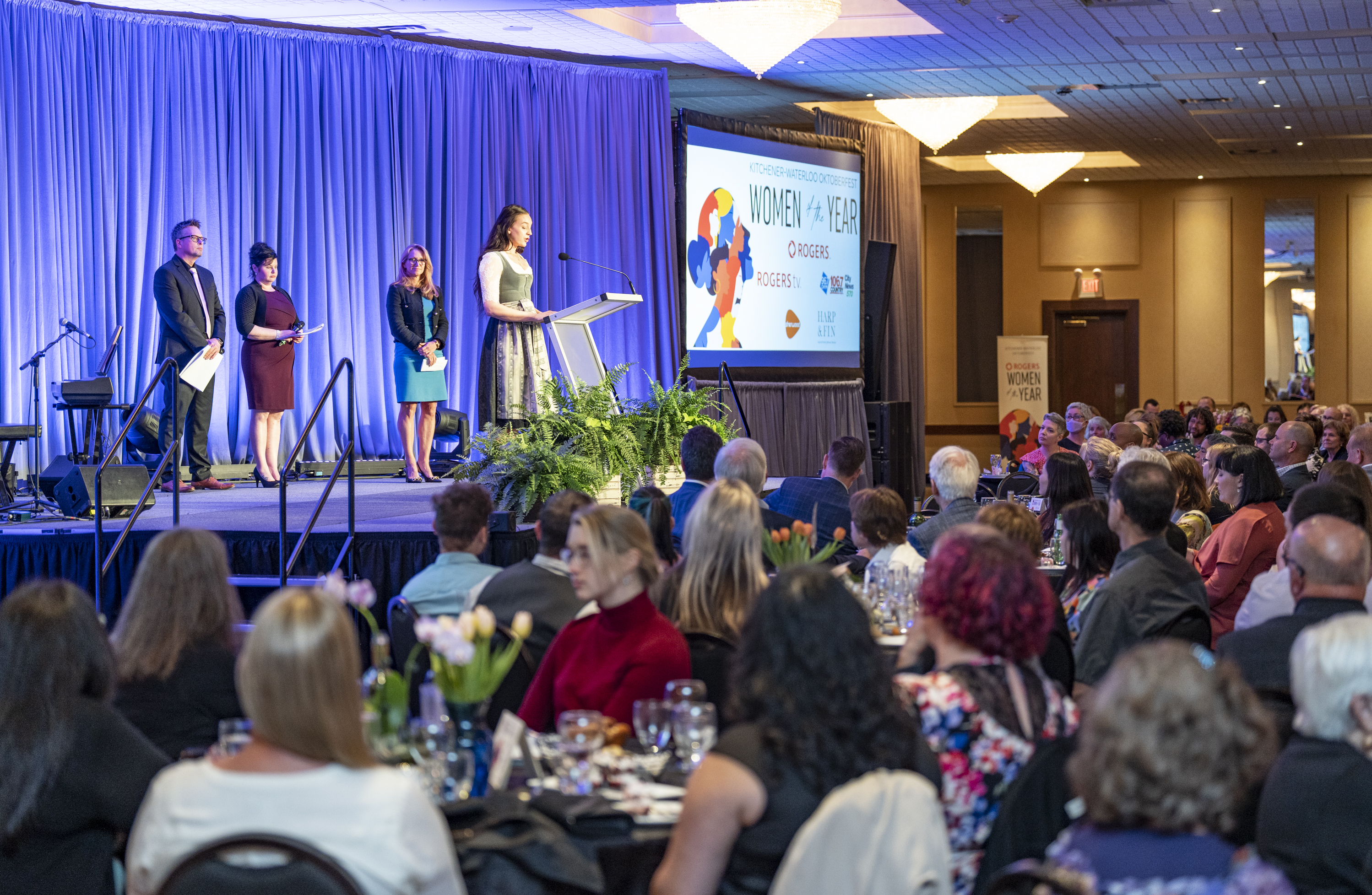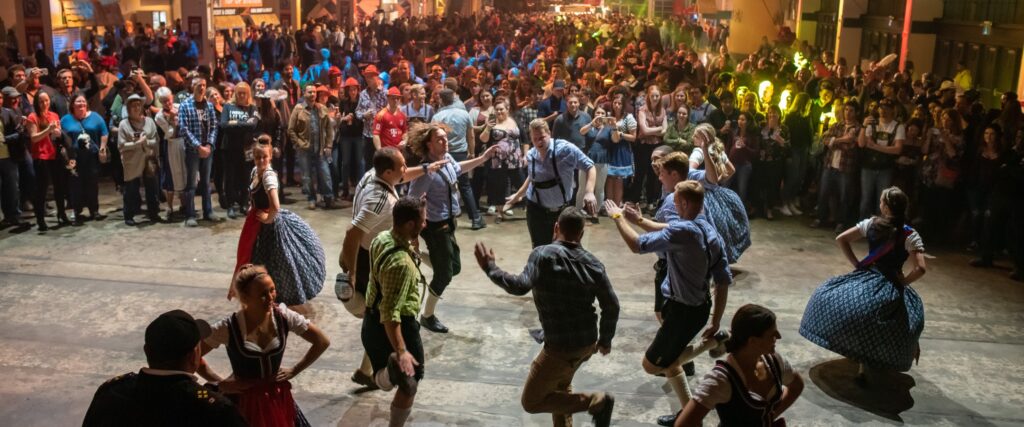 There are many ways to take in the Oktoberfest Experience during the festival. With different Festhallen venues each offering their own experience, and dozens of Family and Cultural Events to choose from, there is something for everyone! Walk through the doors of a festhalle and be transported to a world of good times, and good cheer. Where there are no strangers and the food and beverages are served up by friendly staff wearing traditional German tracht. Link arms and join your newly found festhalle friends in the singing of Ein Prosit, or hit the dance floor and polka the night away!
Gather the family and head down to Weber Street on Thanksgiving Day to continue the tradition of taking in the Oktoberfest Thanksgiving Day Parade! Watch floats, bands, and costumed characters make their way down the parade route entertaining the crowd.
The Origin
Once upon a time, in a far away land known as Bavaria, a Crown Prince, who later became King Ludgwig I, married the beautiful princess Therese Von Sachsen-Hildenburghausen. The loyal soldiers in the Prince's National Guard thought horse races would be a most fitting way to celebrate the happy event – and so they became the finale of five days of wedding festivities on October 17, 1810. This was the likely beginning of Oktoberfest.
The horse races became an annual event and were combined with the state agricultural fair the following year. It wasn't until 1818 that booths serving food and drink were set up at the event. By the late 1800's, the booths had grown into large beer halls or tents, which are still set up each year on the Theresienwiese named in honour of Ludwig's bride.
Today, a large mid-way and fair accompany Oktoberfest in Munich, the largest celebration of its kind in the world. The festival extends over two weeks and ends on the first Sunday of October.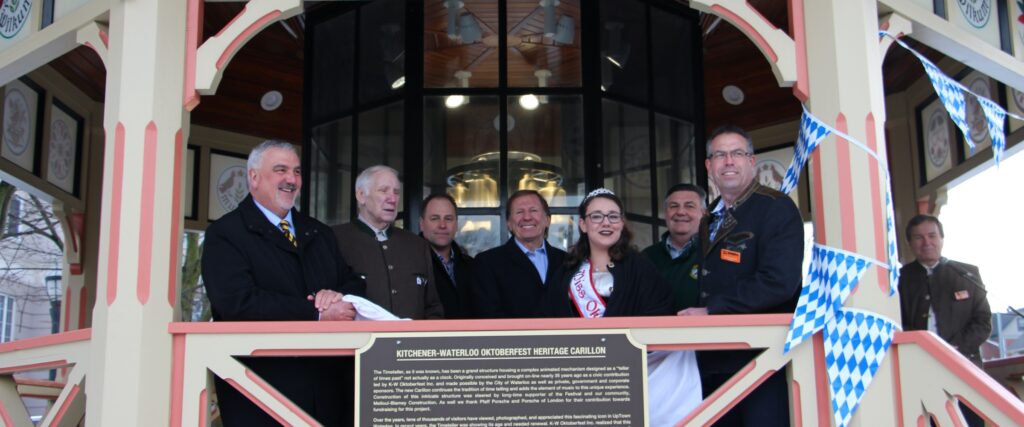 The Legacy
In Kitchener-Waterloo, Oktoberfest was not established by royal decree, but with a noble motive just the same. In 1969, the founders of Kitchener-Waterloo Oktoberfest saw this Bavarian tradition celebrated at the famous Concordia Club in Kitchener as an excellent opportunity to benefit the entire community by becoming a civic festival that celebrated our local German Canadian heritage. Learn more about the first 40 years of Canada's Greatest Bavarian Festival!
Where today there is a cast of thousands, at its inception on October 14, 1969, there were only a handful of dedicated Oktoberfest organizers, among them festival founders Richard Hermansen, Owen Lackenbauer and Darwin Clay. As a veteran Oktoberfest volunteer, Jack Bishop tells us, according to Lackenbauer, "it was pretty exciting back then because we were flying blind. As part of the 1967 Centennial celebrations, the Concordia Club had a small Oktoberfest, and we had a mandate with the Chamber of Commerce to develop a tourism event to attract visitors. When we saw what Oktoberfest looked like, we said this is a great opportunity." With a banner over King Street, posters here and there, and as much media coverage as could be mustered, the keg was tapped and history was made.
"We got the enthusiastic support of the German clubs and a tourism official from Munich, Germany. All we had was $200 and a vote of confidence from the Chamber to get it going. It was a phenomenal success for the first five days, and we turned a small profit with just short of 75,000 visitors," recalled Lackenbauer. The success translated into happy patrons enjoying 57,000 gallons of Bavarian-hopped Oktoberfest beer brewed for the occasion and washing down over 50,000 pounds of sausages along with pigtails, sauerkraut and other German and Waterloo County fare.
"From the initial success 40 years ago, we knew we had a tiger by the tail. We took steps to make sure the festival belonged to the municipalities of Kitchener and Waterloo. And that is where it has remained—a community-owned festival. The present organization has maintained the festival's traditional identity and the integrity of the model that was first developed while today representing new generations and different interests. That's the key to Oktoberfest's success, and I think they've done that very well," noted Lackenbauer.
Since 1969, Kitchener-Waterloo Oktoberfest has developed its own traditions, becoming the largest Bavarian festival in North America with the greatest Thanksgiving Day Parade in Canada. Thousands of visitors celebrate annually in our Festhallen, and by attending one or more of our 40 family and cultural events. Through the celebration of this Spirit of Gemütlichkeit, the local economy is stimulated and over 70 charities and not-for-profit organizations raise funds to support the high quality of life enjoyed in Kitchener-Waterloo. Willkommen to you, your family and friends.
Enjoy the many exciting experiences of our nine day celebration, and if someone asks why you are here… tell them Ludwig sent you.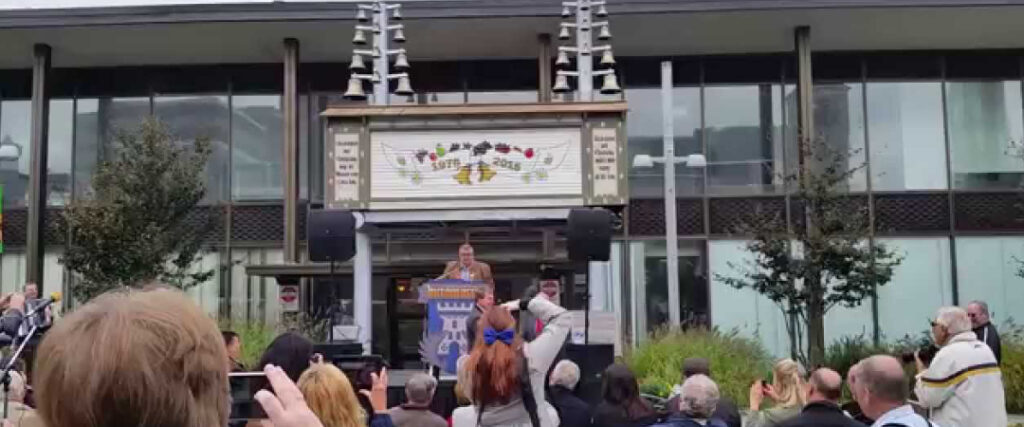 Celebrating our Traditions
Glockenspiel: In October 2015, Kitchener-Waterloo Oktoberfest proudly unveiled the refurbished Glockenspiel, at Speaker's Corner in Downtown Kitchener.
The Glockenspiel is a symbol of our community's rich German Heritage. The original 23-bell Glockenspiel was delivered from Holland in 1976 to the City of Kitchener and K-W Oktoberfest Inc. It was a structure situated six meters off the ground and featured an animatronic show depicting the fairy tale Snow White and the Seven Dwarfs. In 2009, the unit had to be relocated and went into storage until a suitable location could be found. The Glockenspiel spent 6 years in storage and underwent months of refurbishment by a Cincinnati, Ohio Firm. The newly refurbished Glockenspiel is once again situated at Speaker's Corner, but this time is mounted on a four-meter high, free-standing superstructure built by Melloul Blamey. While the original Glockenspiel could play a single song, the updated version is able to perform a variety of songs. Its animated show runs once per day throughout the year, and hourly throughout the festival. Programmed seasonal music and lighting keep audiences interested all year long. The Glockenspiel features a refurbishment of the 23 bells, a new enclosure facade, a computerized control system, sound baffling, electrical service, landscaping, and a maintenance program.
Carillon (Time Teller)
In March 2020, Kitchener-Waterloo Oktoberfest and the City of Waterloo proudly unveiled the refurbished K-W Oktoberfest Heritage Carillon (formerly the Oktoberfest Heritage Time Teller in Waterloo).
As part of the 50th Anniversary Celebrations in 2018, this Uptown Waterloo landmark received not only a complete facelift, but an entire rework of its components. The newly renovated structure features an 18-bell Carillon interior. With these upgrades, the Carillon is once again bringing music and cheer welcoming visitors through the gates of the City of Waterloo.
Originally constructed and dedicated in 1984, the original Time Teller featured a centerpiece consisting of various anthropomorphic instruments, a steam paddle wheel and beer steins that swayed and moved to traditional Polka Music. The instruments used to operate on the hour, however the piece had been silent for a number of years. It has been brought back to its former glory, thanks to the efforts of many partners including Melloul Blamey Construction, who under Bernie Melloul's leadership, was instrumental in constructing the original Time Teller.