The 2021 KW Oktoberfest Cares
50/50 Raffle
Licence No.: RAF1219546 | Issued to Kitchener-Waterloo Oktoberfest
Congratulations to our Grand Prize Winner Kathy Schertzer!
Total Pot $7,440
Winning Ticket # 21111 for $3,720 | $3,720 for the KW Oktoberfest Cares Fund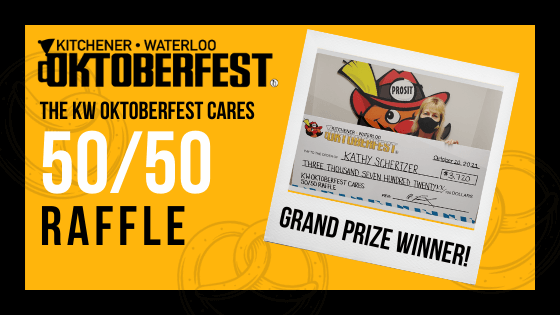 Launched:
Wednesday, September 15, 2021
Sales End:
Tuesday, October 12, 2021
Draw Date:
Wednesday, October 13, 2021
Draw Location:
10 King St. W, Kitchener, ON, N2G 1A3
Early Bird Draws
#1
Wednesday, September 22, 2021 at 10 am

$1000 VIA Rail Voucher
Winning Ticket # 21074
Stacey Duvall
#2
Wednesday, September 29, 2021 at 10 am

$1582 Traeger Pro BBQ
Winning Ticket # 21528

#3
Wednesday, October 6, 2021 at 10 am

$2500 Flair Airlines Voucher
Winning Ticket # 21004
Kyle McKone
Ticket Prices: 1 for $10 | 3 for $20 | 8 for $50 | 20 for $100
CLICK HERE to read the FULL RULES OF PLAY.
KW Oktoberfest Inc. is a not for profit organization rooted in the cultural and demographic history of the region and is a significant economic and tourism driver in the Region of Waterloo. Kitchener-Waterloo Oktoberfest is committed to supporting the cultural, economic and social vitality of Waterloo Region. Through Oktoberfest Cares, our festival focuses on celebrating our traditions, enriching our community and supporting those who support others. Funds raised by this raffle will be used by Kitchener-Waterloo Oktoberfest to support the Oktoberfest CARES initiatives, including supporting and promoting local cultural programs, and supporting local charitable organizations who address important community issues, such as food security, health & wellness, sexual safety, inclusivity and diversity.
Presented By:

Stay Up-To-Date
Looking for more information about Kitchener-Waterloo Oktoberfest? Well you've come to the right place mein freund!