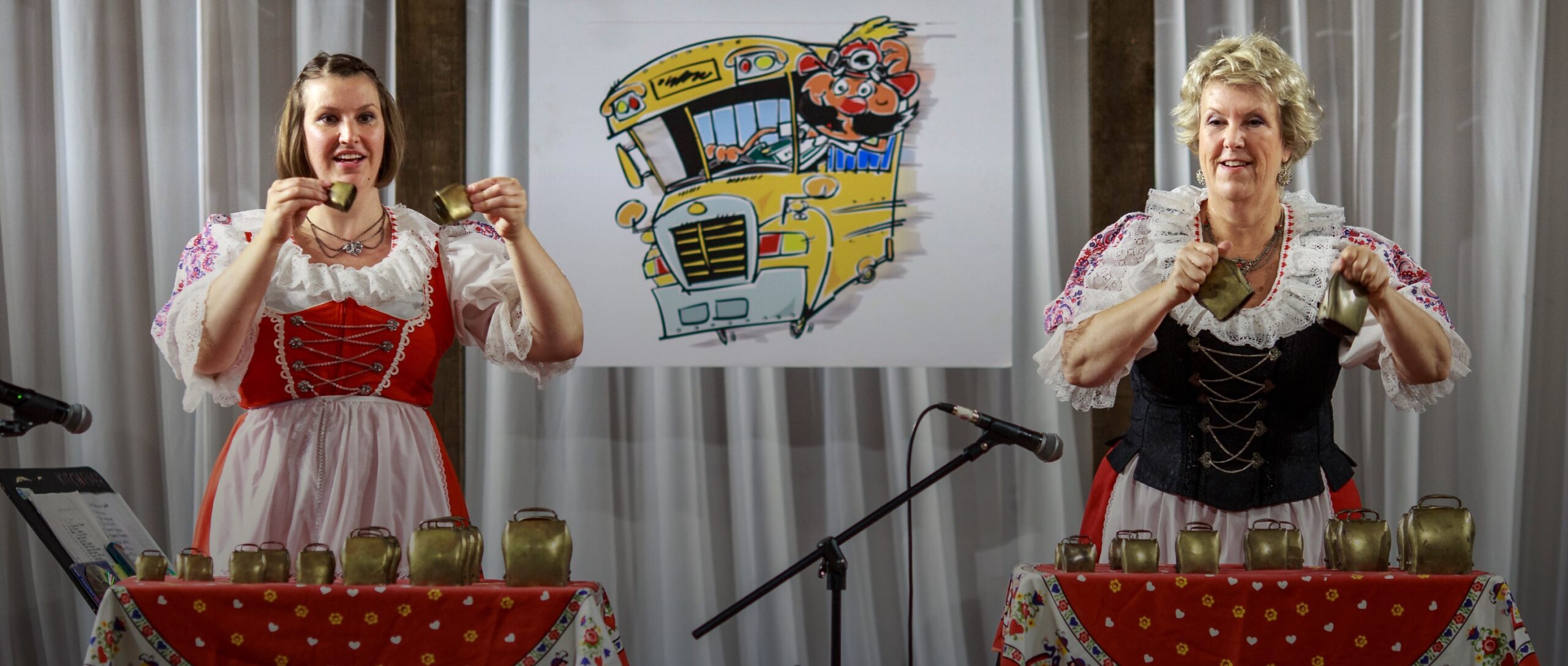 Year-Round Volunteer Opportunities
Become a part of an exhilarating experience and share in the spirit of Gemütlichkeit – all year round!
Kitchener-Waterloo Oktoberfest has many opportunities for dynamic people looking to volunteer all year round, not just during the festival! Check out all of our committees below, and then submit your application. As a new Festival volunteer, we require that you:
Are 19 years of age or older
Attend an orientation workshop (virtual options available)
Provide a Police Records Check
Depending on the function of your volunteer role, you may be required to wear German Tracht (dirndls, lederhosen, etc.)
If you're unable to commit to a year-round role, please consider helping out with one of our special events! Check out our Special Event Volunteer Opportunities instead!
Year Round Committees
Committees are actively engaged in planning throughout the year, normally meeting for a few hours every month to administer committee business and stay abreast of Kitchener-Waterloo Oktoberfest initiatives. Volunteers are asked to allocate a minimum of 20 hours of volunteer time per committee to the Festival each year.
Archives Committee
The Archives Committee is about capturing the history of the festival through photos, news releases, presidential documents, and small artifacts. The Archives Committee compiles all the relevant information to submit to the University of Waterloo where Kitchener-Waterloo Oktoberfest has a contract to keep the festival's history on file. You'll get to enjoy the 2nd largest Bavarian festival in the world while capturing and preserving the history of the region and the festival.
Key Responsibilities:
Capturing history through shooting photos at Kitchener-Waterloo Oktoberfest events.
Selecting the best 200 photos of each festival year out of the thousands of pictures that come to the office from professional photographers and volunteers.
Maintaining computer file storage of photos and managing the selection of files to go to the University of Waterloo on the newest format (DVD-USB).
Creating and selecting photos for each presidential document.
Transporting and delivering the KWO office admin to the University of Waterloo archival library (when required).
Ceremonies Committee
The Ceremonies Committee is responsible for bringing to life the Official Keg Tapping. They must prepare the stage, select entertainment, and invite dignitaries who will all be present for the Ceremonies.
Key Responsibilities:
1. The decoration, staging, and entertainment of Ceremonies.
2. The ceremonies present a high level of value to the Kitchener-Waterloo Oktoberfest experience as seen by our critical stakeholders.
3. All ceremonies must have a "fresh face" each year and a high level of audience engagement to support the KWO experience.
Community Engagement & DEI: Diversity, Equity, Inclusivity and Sexual Safety
Our region has grown into a beautiful community, and in recognizing this, we have built the Community Engagement Committee in order to ensure that the festival is inclusive, diverse, welcoming, and safe for all, cultivates safety without regard to race, colour, religion, gender, gender identity or expression, sexual orientation, or national origin. We are relentlessly working behind the scenes to ensure that when we say this is a festival for ALL, that is truly what is experienced and felt across our region during the festival.
We are looking for members from within our community who are passionate about helping foster new relationships and opportunities to lend to our mission of truly being a community-driven festival. Preserving the Bavarian traditions of celebration, while also building a culture of inclusion and connectedness within that celebration.
Festival Entertainment Committee
The Festival Entertainment Committee covers entertainment at all events at Kitchener-Waterloo Oktoberfest. This includes local dance group bookings and schedules.
Any entertainment request from outside the Festival, that would like an Oktoberfest flavour, is connected with entertainment (band and/or dance group) by this Committee. This happens on a year-round basis.
There are plans to be very comprehensive not only of music and dance but novelty acts and more. They will have booking costs, touring dates, etc. Currently, the Committee receives requests from both inside and outside the organization for all sorts of entertainment from a two-person group that does 5-minute acts such as organ grinding, accordion, face paint, etc. to larger bands or dance groups.
Gemütlichkeit Committee
The Gemütlichkeit Committee has the responsibility to be helpful and informative to both the public and other Committees with respect to Oktoberfest events. Ensures that public expectations are met while staying within the mandate and budget set for Kitchener-Waterloo Oktoberfest. Must always be cheerful, as their role is representative of the festival and therefore they are at the forefront of making visitors feel both welcome and happy.
Key Responsibilities:
Serve as an ambassador for the festival and assist where/when needed.
Study Kitchener-Waterloo Oktoberfest's schedule of events to ensure you can provide information when asked or know where to find the information if needed.
Complete status sheet when attending events organized by other chairs.
Encourage new ideas to be brought forth to Board for review.
Spreading the spirit of Gemütlichkeit!
German Heritage
The German Heritage Committee plans to be the "go-to" group for all other Committees looking to add that extra authenticity or "Oom-pah-pah" to their event.
With lots of Kitchener-Waterloo Oktoberfest experience to go around, the committee wants to really promote German history and heritage to those who come to Kitchener-Waterloo Oktoberfest but lack the information and familiarity. By the time our guests leave, they should come away with some sense of what it is to celebrate Kitchener-Waterloo Oktoberfest and its authentic German/Bavarian traditions!
Inflatables Committee
The Inflatables Committee is responsible for maintaining the inflatable characters within our inventory. This Committee must facilitate a safe environment where specific health and safety rules are followed, so as to ensure the safety of both spectators and volunteers. The Inflatables Committee run all throughout the Festival and throughout the year. These inflatables bring a sense of excitement to events and often serve as important land markings.
Key Responsibilities:
Assist in booking and scheduling the inflatables at different events across the Region.
Commit to at least 5 set up and take down of inflatables at events every year.
Must take part in a training course on health and safety procedures and operations for the inflatables.
Attend committee meetings as required.
Keg Tapping Team Committee
The Keg Tapping Team functions all year round, bringing the Oktoberfest experience to local and out-of-town conferences. The committee provides an authentic atmosphere for the client by decorating rooms to replicate a Kitchener-Waterloo Oktoberfest Festhalle, meet and greet guests as they arrive while dressed in tracht, perform a keg tapping with beer samplings as well as engage the crowd to have an Oktoberfest style experience. The Keg Tapping Team also serves as the "Keepers of the Keg" and performs the keg tapping ceremonies at the Opening Ceremonies for the festival and at the individual Festhallen throughout the festival.
Key Responsibilities:
Decorate event rooms.
Meet and greet guests.
Perform a keg tapping experience with dignitaries, the President, the Oktoberfest Ambassador, and our mascot, Onkel Hans.
Provide consultation and assistance to groups that want a Bavarian theme for their special events, conventions, and meetings.
Engage with the guests to add to their experience and ensure patrons enjoy the "Gemütlichkeit" of Kitchener-Waterloo Oktoberfest.
KIDtoberfest Committee
KIDtoberfest is a three-day event celebrating local Bavarian culture, the heritage of our community, and the 50-year tradition of community spirit and togetherness. The KIDtoberfest Committee will work to create guided activities for kids aged 3-10 and their families, celebrating Oktoberfest/Thanksgiving traditions and opening doors to the rich arts & culture landscape in Waterloo Region.
We welcome new volunteers with experience in education, with children, and/or in program or event planning, or individuals who would simply like to contribute their unique skills to creating the best programming possible for our participants.
KWO Ambassador Committee
The Kitchener-Waterloo Oktoberfest Ambassador Program provides a unique and empowering community engagement to young adults aged 19-29 within Waterloo Region. The program will be champions of Kitchener-Waterloo Oktoberfest, OktoberfestCares initiative, and the local community while growing personally and professionally within this aspirational role.
The program will impact three specific parties, and their goals are identified below.
Community – provide opportunities to give back and volunteer within Waterloo Region
Ambassadors – provide an ongoing opportunity for self-growth and skill development as one of the primary representatives for Oktoberfest and the community
K-W Oktoberfest – provide year-round community presence for the organization through aligning the program with KWO's mission, vision, and values

Key Responsibilities:
Develop and institute a marketing plan to attract a diverse range of candidates to represent "Canada's Greatest Bavarian Festival."
Promote the Oktoberfest ambassador role and the positive impact the individuals have on our local community
Secure qualified candidates applications in advance of the deadline
Curate the interview panel that will select the incoming Oktoberfest ambassador
Skills:
Creative, motivated, diligent and dedicated self-starter who is able to complete tasks
Excellent planning and organizational skills
Comfortable in a leadership position at large events
Willing to work as part of a team.
Marketing Committee
The Marketing Committee is responsible for telling the Kitchener-Waterloo Oktoberfest story in order to increase awareness and participation in Canada's greatest Bavarian festival. It is quite the story to tell so we use a number of different methods to market Kitchener-Waterloo Oktoberfest.
Key Responsibilities:
Developing ongoing strategies to keep our festival top of mind.
Create content for social media and the website.
Supporting other committees with on-site events before & during the festival.
Spreading the spirit of Gemütlichkeit!
Keeping on top of trends & bringing new ideas to utilize in the upcoming year's promotions.
Assisting Festhallen partners with special events.
Assisting with all festival events in developing marketing strategy.
Maypole Committee
The Maypole Committee is devoted to maintaining a Bavarian Tradition within our Canadian culture. This Committee brings a visual event to our guests and visitors, which is something they may not see or experience anywhere else. This Committee must also facilitate a safe environment where specific health and safety rules are followed, so as to ensure the safety of both spectators and volunteers. An honourary Baumeister is designated for every lift and is given a ceremonial pin for his/her participation (a way in which to include the community/visitors).
Key Responsibilities:
Tracht necessary.
Must show a high level of enthusiasm before, during, and after every event.
Must be familiar with maypole history and tradition.
Must take part in a training course on health and safety procedures for maypole.
Micro-Festhallen Committee
The Micro-Festhallen Committee will assist with the Restaurant Program by highlighting local restaurants that will be featuring live Oktoberfest entertainment, coordinated access to our live-stream events, Oktoberfest food specials & beer pairings, prize programs and maybe even a visit from the keg tapping team or Onkel Hans! The goal of the committee is to enhance the "Oktoberfest Experience" in every Micro-Festhallen.

Key Responsibilities:
Act as liaison between K-W Oktoberfest Inc. and Micro-Festhallen
Coordinate event and entertainment schedule with local restaurants
Be the key point of contact for nights featuring Oktoberfest entertainment
Package and deliver Bavarian themed decor packages to local restaurants
Coordinate with Oktoberfest Cares and Onkel Hans Food Bank Committees to activate at events
Oktoberfest Cares Committee
Kitchener-Waterloo Oktoberfest is committed to supporting the cultural, economic and social vitality of Waterloo Region. Through Oktoberfest Cares, our festival focuses on celebrating our traditions, enriching our community and supporting those who support others. The Oktoberfest Cares Committee is responsible for working closely with Onkel Hans Food Drive, Community Engagement & DEI, Ambassador Committees.
Key Responsibilities:
Assist with fundraising efforts; obtaining raffle and silent auction prizes for Oktoberfest events
Ensure Oktoberfest Cares branding is consistent throughout all aspects of the festival
Oktoberfest Golf Experience Committee
The Oktoberfest Golf Experience takes place in September and is one of the final tournaments of the season. Players will get chances to win incredible prizes on all of the par 3 holes, they will get to sample delicious food and beverages on many holes and also get Oktoberfest Sausage for lunch, and an amazing German dinner. The Oktoberfest Golf Experience will be held at the Galt Country Club September 12, 2022.
Key Responsibilities:
Advanced planning, work with partners/sponsors, coordinate with vendors.
On course marshals.
Hole-in-one-Witness.
Silent auction item generation.
Registration table.
Oktoberfest Mascots Committee
The Oktoberfest Mascots Committee is undoubtedly the most active and fun committee in Kitchener-Waterloo Oktoberfest.
The mascots consist of:
Onkel Hans is the brand of Kitchener-Waterloo Oktoberfest. Onkel Hans is everywhere throughout the year and he is the center of attention at events he attends during Oktoberfest. Along with his escorts they bring smiles and good cheer to every Festhalle and event they go to. His favorite things to do are the Bird Dance and taking pictures with guests.
Tanta Frieda, Onkel Hans' wife, attends a number of events and shares in bringing good cheer, smiles and is always available for pictures.

Oktoberfest Mascots Committee works hand in hand with every other committee in Kitchener-Waterloo Oktoberfest. From keg tappings to dancing with the Oktoberfest Ambassador and participating in the Oktoberfest Thanksgiving Day Parade, the Oktoberfest Mascots Committee is everywhere.
Onkel Hans Food Drive Committee
A committee dedicated to bringing the Gemütlichkeit of Oktoberfest during the Thanksgiving Day Parade to the Kitchener-Waterloo area. It is through the involvement of our generous community, both through their food donations and financial support, that it is possible for The Food Bank of Waterloo Region to bring the spirit of Thanksgiving to many families. With the support of our sponsors, our friends in the media, and our willing volunteers, we are able to exemplify our community generosity.
Key Responsibilities:
Assist in getting volunteers to help collect money along the parade route.
Collect monies along the parade route.
Roll money and give to Food Bank of Waterloo Region once all monies have been accounted for.
Parade Committee
Perhaps one of the most widely recognized events associated with Kitchener-Waterloo Oktoberfest is the iconic Thanksgiving Day Parade. Like all of Oktoberfest's events, this too is organized by a team of dedicated volunteers. Or more like 10 teams – each dedicated to a very particular area of the parade. We are looking for individuals with a wide range of skills to sit on the sub-committees.
Sub-Committees:
Bands
Bleachers & Groups
Float Design & Builds
Float Maintenance
Marshalling
On Street Vendors
Production
Signage
Vehicles, Drivers & Buses
VIPs, Guests & Hosting
Warehouse

Parade Day Volunteers are also needed! Such as Sign Carriers and Marshals! Contact us for more info on parade day volunteering!
Volunteer Services Committee
The Volunteer Services Committee's mandate is to develop and execute a Festival Volunteer program that focuses on five key pillars:
Volunteer Recruitment
Volunteer Communication
Volunteer Engagement
Volunteer Safety, Equity and Training
Volunteer Retention & Recognition

Key Responsibilities:
Recruit and process new volunteer applications and placements; process and administer existing volunteer's transfers, resignations and terminations.
Assists in the facilitation of new volunteer orientations
Working with festival staff and operational committee chairs, the Volunteer Committee will develop and execute a strategy for a volunteer recruitment campaign to align with the festival's new vision and direction
Work with festival staff to coordinate regular communications to volunteers, and build strategies for greater communication between volunteers and the festival
Develop a year-round strategy for volunteer engagement including creating events for social interaction, learning, collaboration, feedback and recognition
Coordinate volunteer appreciation events – in coordination with the Retention & Recognition
Research, develop and administer Human Resources related policies and procedures;
Develop a strategy for year-round volunteer recognition programs, coordinate the Volunteer of the Year Award
Skills:
Knowledgeable and experienced in Human Resources policies and procedures.
Able to work well with others.
Understands the needs of Committees in regards to new volunteers or replacing volunteers.
Respectful.
Willkommen Platz
The Willkommen Platz Committee exists to create a central point for the Festival, in which visitors may acquire information, German entertainment, and food. The Committee is responsible for decorating this central hub, in a way that will draw visitors in and keep them interested. Design a flow from one end of the street to the other, in which tents will hold information, vendors, and entertainment.
Key Responsibilities:
The committee volunteers set up and dismantle the blockades, stages, tents and signage in the Willkommen Platz.
Placement of vendors and décor are also arranged by the committee.
Coordinates and schedules a wide variety of entertainment (i.e. bands, buskers and mascots) to perform in the downtown area.
The committee works closely with the Board and other relevant committees (i.e. Marketing, Gemütlichkeit).
Wears authentic tracht while volunteering in the central hub.
Will always respect other volunteers.
Women of the Year Committee
The K-W Oktoberfest Rogers Women of the Year Awards recognize outstanding women in the community in ten categories: Arts & Culture; Community Service; Entrepreneur; Group Achievement; Health and Wellness; Lifetime Achievement; Professional; Science, Technology, Engineering and Math (STEM); and Young Adult. Nominees and award recipients are recognized at a celebratory reception annually.
The committee identifies potential nominees and encourages nominations. A separate adjudication committee selects the award recipients. The committee meets weekly for 1.5 hours, and volunteers can also expect an additional 15-20 hours.
Key Responsibilities:
Identify potential nominees and encourage nominations.
Plan details for the awards reception, including décor, food, and keynote speaker.
Promote the awards via social media.
Liaise with sponsors and nominees.
Volunteer at the event, including set-up, ticketing, decor, and clean-up.
WunderWagen Committee
Spread the spirit of Gemütlichkeit along with the WunderWagen – our mobile stage experience! New for 2021, the WunderWagen brought the best local bands and local entertainers to neighbourhoods, restaurants, and community centres. Committee members will host the WunderWagen on weekends and special events throught the festival dates.
Key Responsibilities:
Main point of contact for bands, sound tech, venue contact
Assist with routing and venue locations
Welcome the audience and demonstrate dance moves
Set up event and sponsor signage at each stop
Work closely with the Marketing Committee to promote attendance at stops
Create mini WunderWagen events or contest, i.e.. block parties